Going to Galápagos is coming close to a pilgrimage for biologists and is fulfilling a lifetime dream of many others. "Going to Galápagos" conveys associations about the sailboat Beagle anchored in shallow waters and of Darwin exploring the nearby shore, about giant turtles, tame birds, sea lions, and large flocks of ancient looking marine iguanas lining black lava cliffs.
With this in mind we get our first sight of the islands from the airplane lowering down to a small runaway on the sparsely vegetated Baltra Island. Passengers get off the plane to walk the 100 meters or so from the plane to what is called a terminal at the former US military airport.
People line up where inspectors from the National Park scan through luggage to prevent the import of fruits and animals. This is comforting because we heard about the problems with introduced plants and animals that are transported from the continent intentionally or involuntarily.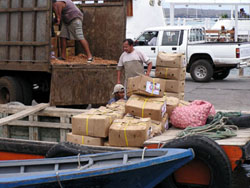 Once established, they often outcompete native species.
But the luggage scan also stirr a premonition - ahead of us lie not only stories of pristine nature and about Darwin's trip but the modern reality of these islands. Since the local human population on Galápagos has been growing rapidly, conservation issues have become increasingly pressing and conflicting interests repeatedly sparked confrontations between local politicians and fishermen on the one hand and the National Park Service personnel and international NGOs on the other hand.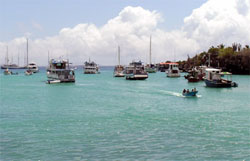 Most foreign visitors quickly pass the controls in the small airport hall and after a short bus ride they embark on a Yacht. A crew aboard is ready to provide the "adventure of a lifetime", as the internet presentation of a touring company promises. Tourists are supposed to indulge in the natural wonders of the last paradise on earth, and not to worry about problems during their trip, as one can everywhere else in the word. After all, people leave a lot of money to get a glimpse of this paradise.
We join the local crowd of Galágenos headed for the channel of Itabaca, where a ferry brings us to the endpoint of a road passing the main island of St. Cruz from North to South through the misty highlands of wood-covered volcanoes. One and a half hours later the bus arrives in the midsts of Puerto Ayora, a town of over ten thousand.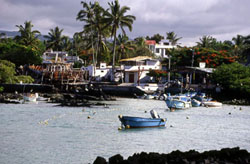 In 1959, scientists from the Max Planck Society recommended a place at Academy Bay on St. Cruz for the establishment of the Charles Darwin Research Station to expolre the life history of the Galápagos. At the same time, the newly founded National Park authority was assigned with conservation of the delicate nature in the archipelago. In the early sixties, the first offical vessel started to host tourists. From the beginning on, tourism was restricted to guided groups aboard a limited number of registered vessels on which visitors live and from where they undertake short trips to the most attractive sites. With rising numbers of tourists and immigrants from the continent, the formerly small and tranquil place at Academy Bay was getting a more and more town-like appearance.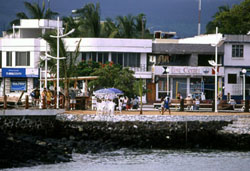 The way how tourists travel by boat is helping to avoid the involuntary transport of alien plant and animal species from one island to another. People eat and sleep on board and enter islands with no more than a light daypack. The group sizes are limited and a trained Naional Park guide accompanies each vessel. In contrast, when scientists venture out in the archipelago, they usually don't travel as much between islands, but spend extended times at remote places and have to bring along everything necessary. This involves the danger of transporting potentially disastrous invertebrates and plant seeds or pathogens. For example introduced fire-ants, which are very aggressive against the native fauna are of major concern. They are tiny and easily overlooked in boxes full of provisioning, which is of course very attractive to them. A protocol had been designed to minimize the danger of tranporting animals, seeds, or pathogens between the islands. Before we leave the main island St. Cruz, we meticulously have to treat food and equipment. Fresh food is excluded, with the exception of onions, garlic, potatos, and carrots. All have to be pealed and washed before being stored for transport. Other than that, our provisions are composed of canned food, rice, noodles, and cereals. Any package of dry food could harbor small insects and has to be frozen to kill stowaways.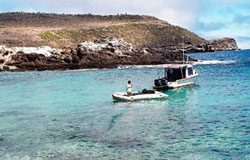 Our group of six lays out plans for a trip to the uninhabited island of St. Fé. We join forces to clean and peel three kilograms of onions and prepare further food to be taken along to the island. All is finally packed in containers and loaded on board the "fiebra" that will carry us and our makeshift camp household for the following three weeks to St. Fé.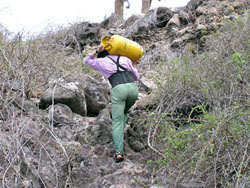 We enjoy a fabulous passage with a big sperm whale crossing in front or our boat. This was the more comfortable part of the move, what lies ahead is the drudgery of unloading all our equipment in shallow water and bringing it up a rocky cliff. But soon we are being rewarded. The plateau with the designated camp site offers a marvelous view over an azure sea. Tents are erected and tarps are spun out over bamboo poles for protectoin against the elements.
A first visitor shows up and is inspecting fearlessly our equipment. The land iguana that calls the surroundings of our camp his home is very curious and used to the idea to host a group of scientists once a year.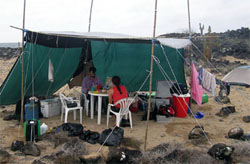 Soon we have a little zoo in and around our camp with the rice rats eager to lick some overlooked soup spill on our gas stove, a short-toed owl hunting the rice rats and grasshoppers
while walking
in and around our kitchen. Our "wild pets" are amazingly tame and curious, once the owl even landed on Silke's shoulder where a big grasshopper got lost.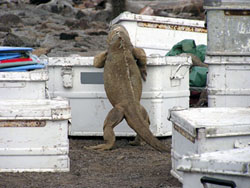 For us, this intimacy means double efforts to assure that all food and waste is secured in closed boxes and containers. But not enough, for want of food, rice rats chew all kinds of rubber and plastic, destroying things that become most valuable to us, like the pipe of our water filter. For the lack of replacements, every single item becomes increasingly important for our daily needs. A plastic bottle with cooking oil can become a real treasure on this place, if it's the last one. Even more painful, when it's the rubber of your binocular's eyepieces, which the rats picked out.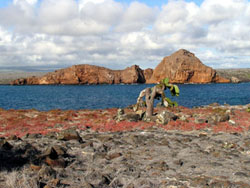 Other fellows, like the sea lion youngsters, welcome us and obviously want to play while we wash our dishes on the beach or ourselves in the sea. You get used to personal hygiene with salt water, while fresh water is being reserved for cooking and drinking. Some people may have problems accepting such basic conditions for the daily needs. But after all, we soon fall in love with the view from our "sanitary corner". While comfortably leaning against a laval rock five meters above the surf looking over an azure horizon towered by red-billed tropicbirds and elegant fregatbirds - it definitely offers the most amazing scenery I ever enjoyed from a restroom.