Not only the establishment of stranded animals and plants was challenged by the harsh climate and lack of fresh water - it also prevented early human colonization. The first sailors called this barren land "Las Islas Encantadas" - the enchanted islands. Their aversion and the corresponding delay of colonization was a blessing for wildlife and plants and prevented the huge loss of biodiversity that struck most other archipelagos after the arrival of man.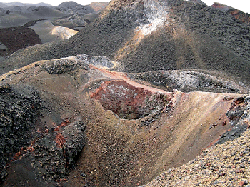 Usually island environments are suffering already many centuries from introduced species and novel predators, such as cats, dogs pigs, goats, rats, birds, as well as many arthropods as stowaways, which came along with human colonizers. The ensuing predation and competition were responsible for major extinctions that hit most of the islands, a prime example being the Hawaii archipelago.
In contrast, Galápagos was spared this fate for a long time.
Therefore, the archipelago is still blessed with a wealth of endemic lifeforms, those which exist only on the Galápagos.
Therefore, the Galápagos archipelago is being called a last paradise by those who appriciate its biological treasures.